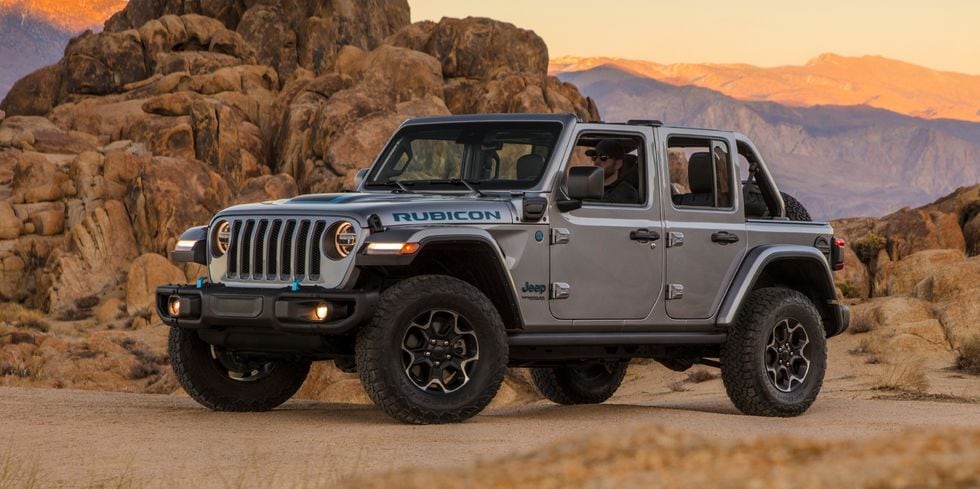 The 2021 Jeep® Wrangler 4xe offers consumers a convenient daily commute with remarkable capability for a plug-in hybrid model. The brand's plug-in hybrid electric vehicle technology combines noiseless, zero-emission off-road performance with open-air adventure freedom that has become synonymous with the Jeep® Wrangler brand. Get your 21 Jeep® Wrangler 4xe at I-10 Chrysler Dodge Jeep Ram.
2021 Jeep® Wrangler 4xe Sports Advanced Powertrain
Nestled deep at the heart of the Jeep® Wrangler 4xe is a 2.0-liter four-cylinder turbocharged engine coupled with two capable electric motors and a 400-volt, 17 kWh battery pack producing on-demand power. A TorqueFlite eight-speed automatic transmission also enables the powertrain. 
This well-designed powertrain is able to deliver fuel-saving efficiency and a smooth, stop-start drive. The model also features the optional Trak-Lok limited-slip differential that provides extra grip to take command in low-traction driving environments, mainly sand and snow. Now consumers can enjoy an off-road electric vehicle lifestyle in an electric vehicle that sets the benchmark for performance and proficiency. 
AutoTech Breakthrough Serves Automotive Excellence
The 2021 Jeep® Wrangler 4xe is a deserved winner of the recognition it has earned from the AutoTech Breakthrough Awards as the brand more than answers the call of leadership and automotive technological innovation. This has allowed Jeep® to forge a new path to legendary, exhilarating, open-air freedom in a commuter-friendly, eco-friendly vehicle choice. What is more, there is no range anxiety for consumers to be concerned with.
When looking for a Jeep® dealership near me, make I-10 Chrysler Dodge Jeep Ram your first choice. At our Jeep® dealership located in Indio, CA, Jeep® dealership offers consumers looking for a new vehicle, unbeatable Jeep® lease deals. We provide a central location that puts us within easy reach of customers near Desert Hot Springs, CA, near Palm Desert, CA, and near La Quinta, CA.