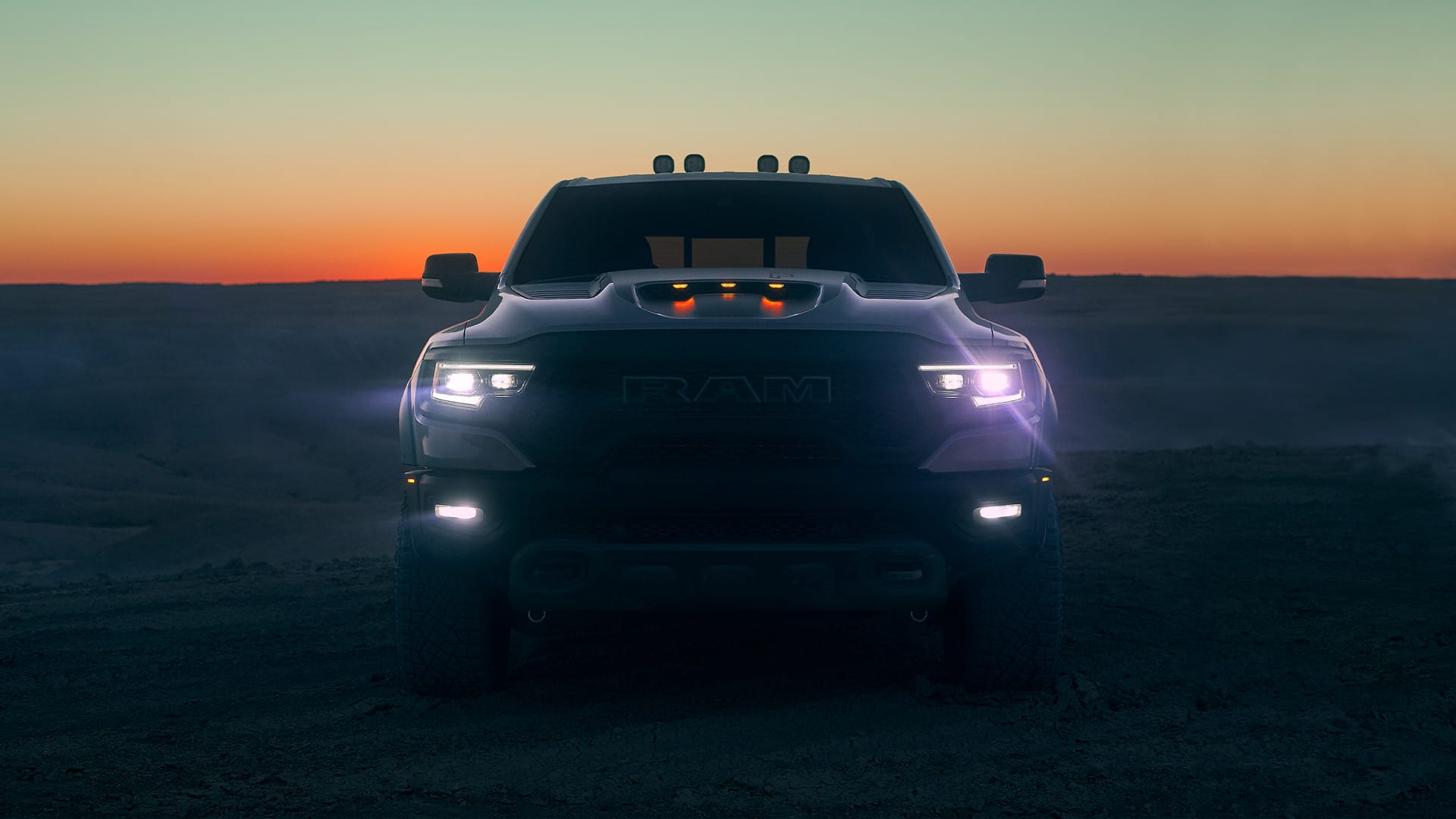 The all-new 2021 Ram 1500 TRX pushes Ram Truck to the top of North America's off-road trucks. With the TRX, the Ram light-duty lineup expands, and there are new standards for power and performance. TRX's 6.2-liter supercharged HEMI® V-8 engine sets it above every other truck in terms of performance and execution capacity.
The output of this high-performance engine is top-notch for extended driving periods. Even with the maximum production, its performance remains top-notch.  Ram designed this outstanding vehicle with an aggressive stance and a complete, muscular body wrapped over the top. The 2021 Ram 1500 TRX is 8 inches wider than other Ram 1500 models, with the composite flares compensating for the 6-inch increase in track width.
Ram allows you to choose from an optional full-length rock rail for added body/sill protection or traditional off-road powder-coated aluminum running boards. Thanks to its oversized tow hooks, the aesthetics of the 2021 Ram 1500 TRX is on a higher level. You can find these hooks at the front and rear of the truck. Design elements like functional air curtains that relieve high-pressure zones at the front corners help TRX complement its secondary details. 
The interior of the Ram TRX features all-new front seats that come with enhanced upper bolster support. The SRT-signature steering wheel has a flat bottom that ensures firm hand grips, enhancing performance driving. The all-new display unit can show about five different content areas at once. If you choose the TR equipment group, Ram will supply your truck with premium cloth and vinyl accents. It also features black and dark ruby red surfaces. The TR1 or TR2 groups, on the other hand, feature the unique all-black color scheme of the Ram 1500 limited. It comes with leather and suede to further improve its unique feel.
The dynamic drive modes allow you to customize the vehicle's performance. You can choose to go for Auto, Sport, Tow, Snow, or Custom drive modes. These modes help you select a setting that meets present road and weather conditions. The custom mode allows you to personalize the performance of the 2021 Ram 1500 TRX. With this vehicle, your ride just got more enjoyable. 
I-10 Chrysler Dodge Jeep Ram is the best Ram truck dealership in Indio, CA. We offer you a wide variety of quality vehicles to choose from our lot. We have outstanding Ram truck lease deals and specials, and our staff is always ready to put you through. The all-new 2021 Ram 1500 TRX is coming soon to our showroom, and you should go and check it out. Our Ram service center boasts of skilled technicians and quality auto parts. Your vehicle is safe with us. We also offer our services to drivers near Desert Hot Springs, Palm Desert, and La Quinta, CA. Visit us today, and we'll be ready to work with you.